Blog
Warning
: implode(): Invalid arguments passed in
/home/metzae/eric.metze.us/wp-content/themes/awsm-wp/sections/page-blog-4.php
on line
26
I've been wanting to do this for a very long time, but none of the videos I found seemed to have the constant kinetic energy that this song requires. I had the first trailer for Smite in my queue for several months before I stumbled back upon late last night. Within minutes, it became clear that the two would work great together. A bit of tweaking later, this video was born. This is one of the only first drafts I've felt comfortable releasing.
audio: "Invincible" by Two Steps from Hell
video: SMITE Cinematic Trailer 'Battleground of the Gods' from Hi-Rez Studios
"Perhaps we had a chance for peace, but desperation and trust are seldom allies."
I'll have more to say about this video later, but it's worth noting that this is my first video in 4k.
"It is the basic condition of life, to be required to violate your own identity."
~Philip K. Dick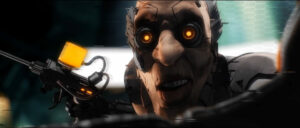 Imagine waking up to find yourself in a body that isn't yours, a body that isn't a body at all. You wake to find yourself inside the shell of a powerful machine. It's a weapon, and it has a controllable trigger. This is what happens when someone pulls that trigger.
The source video is a captivating trailer from Riot Games for League of Legends set (not coincidentally) to "Machine Dreams" by Two Steps from Hell. The glitchy nature of the original video allowed me to do some things I normally can't, which doesn't distract from the original and helps further the story. The song is unusually electronic for TSfH, but it's just as powerful and epic.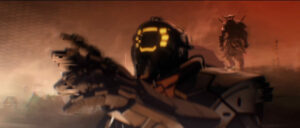 This is one of those rare videos that was put together in a single evening. I'd already done another mashterpiece with this video before, but the themes were strangely perfect. After a few failed attempts to merge the two, I had a breakthrough when I realized that Premiere Pro's optical flow setting totally worked in my favor this time. The video itself is already filled with glitches because of the storyline, so my digital meddling mostly goes unnoticed.
audio: "Machine Dreams" by Two Steps from Hell
video: PROJECT: OVERDRIVE | Skins Trailer – League of Legends
This video is very much a work in progress. The only footage available to me when I made was three of the trailers released over the past couple of years. A friend is currently capturing high-quality video for me, which I'll use to continue improving upon this version. Aside from it simply being higher resolution, it'll have a lot more options for me to tell the story.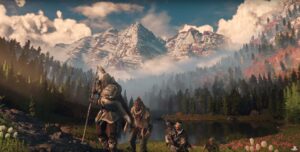 I've been looking for a video to set to this song for more than a year, but I wasn't able to find the right one until now. I'm still on the fence about whether it works, but I have a feeling another injection of new imagery could make this video all I hope it can be. "Victory" is currently the most popular song on YouTube by Two Steps from Hell. It has over 12 million views on the official video, and countless re-uploads and remixes like mine. I wanted to make my version unique, so I remixed not just the video but the audio as well.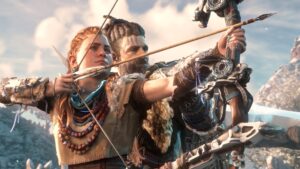 The video starts with the orchestral version of "Victory," highlighting Horizon Zero Dawn's beautiful and mysterious past. Then it shifts into the more familiar instrumental version as human beings are introduced, traveling from far off lands to find what remains of civilization. Once we are introduced to our main character, we finally hear the main theme of the song as it shows her growing up and practicing her archery. As she and her skills take center stage, it shifts into the full version with choir and lead vocalist. The song naturally dips into a mostly orchestral section as we begin to see her actual story unfolding, with a mysterious journey across the machine-filled plains and ancient ruins. Finally, the song drops into a powerful reprisal of the orchestral version, the section of music that inspired this whole project.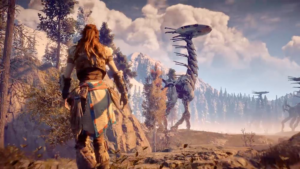 I became obsessed with that part of the orchestral version while on a very long drive across Texas. The whole song is just so well written and performed with such intensity that I couldn't stop listening to all three versions over and over. And it was during one of those listens that I heard the orchestral "break down" and knew what I had to try as soon as I got to my computer. The result is the video above, which I will continue to work on until I'm no longer inspired.
audio:
video:
Copyright © 1999-2017 Eric Patrick Metze.